For Immediate Release:
November 15, 2012

Miami International Film Festival, produced & presented by Miami Dade College, to honor Filmmakers Lasse Hallström and Fernando Trueba

Festival's 30th Edition will screen directors' latest works – The Hypnotist (Hypnotisören), by Hallström, and The Artist and the Model (El artista y la modelo), by Trueba

Miami, FL — Organizers of the 30th edition of Miami International Film Festival (MIFF), produced and presented by Miami Dade College, announced today they will celebrate a milestone year next March 1st – 10th with Career Achievement Tributes honoring two remarkable directors: renowned Swedish writer-director Lasse Hallström, (My Life as a Dog, What's Eating Gilbert Grape), and Spanish producer, writer and Oscar-winning director Fernando Trueba (Belle Epoque, Chico & Rita). This marks the first year, in honor of their 30th Anniversary, that the Festival will honor two filmmakers.  Miami International Film Festival created its annual Career Achievement Tribute in 2003, in celebration of another milestone year (20th anniversary).   Since then, filmmakers honored in Miami have included Hector Babenco, Susanne Bier, Luc Besson, Carlos Saura, Liv Ullman and Wim Wenders, among many illustrious names.

"Espectacular and så underbart!" enthused MIFF executive director Jaie Laplante. "It is without question the best possible year for us to honor Fernando and Lasse, in individual tributes.  Both of these great filmmakers have made indelible impressions on our history, and continue to create new works that fore tells their finest work is even yet still to come, as their new films are destined to be on dozens of ten-best lists in 2013.

"The immensely moving The Artist and the Model will mark the 10th appearance by Fernando Trueba at Miami International Film Festival, which is by far the most of any director in our 30-year history," noted Laplante. "Fernando's films have opened the Festival an unprecedented three times, in 1994, 1996 and most recently in 2011, and his appeal and favor with the Miami audience will make this special evening a kind of homecoming.

"The Hypnotist is Lasse Hallström's triumphant return to Swedish cinema after a 25-year absence.  Miami was the first festival to introduce the United States to his Swedish classic My Life as a Dog, and Lasse's fond memories of that night in February 1987 at downtown Miami's Gusman Center persist to this day – as he vividly remembers the Miami audience responding as enthusiastically to the film as the audiences did in Stockholm."

The Hypnotist stars Oscar-nominee Lena Olin (Enemies: A Love Story, and The Unbearable Lightness of Being) and Swedish veteran Mikael Persbrandt (In a Better World, and the upcoming holiday release The Hobbit: An Unexpected Journey). The thriller, based on the bestselling book by the Swedish author Lars Kepler, is the harrowing story of a disgraced hypnotist whose son disappears after he secretly aids a police detective trying to solve a brutal and horrifying murder.  The film is Sweden's official entry to the Best Foreign Language Film category for the 85th Academy Awards.

The Artist and the Model features a all-star cast of veteran actors, including Jean Rochefort from France, Claudia Cardinale from Italy, Chus Lampreave from Spain (winner of a Goya Award for her role in Trueba's classic Belle Epoque), and the luminous Aida Folch, who rose to fame when Trueba first cast her in his 2002 hit The Shanghai Spell.  Co-written with the prolific and famed Buñuel screenwriter Jean-Claude Carrière, the story is set in the south of France during the occupied period of World War II, where an elderly sculptor encounters a young muse who inspires him to complete a lasting masterpiece, as he ruminates on mortality and the creative life.

The Career Achievement Tributes to Fernando Trueba and Lasse Hallström are the first details of Miami International Film Festival's 30th anniversary program to be released by the Festival.   Further announcements will follow, with the complete program to be announced in January.

MORE ABOUT LASSE HALLSTRÖM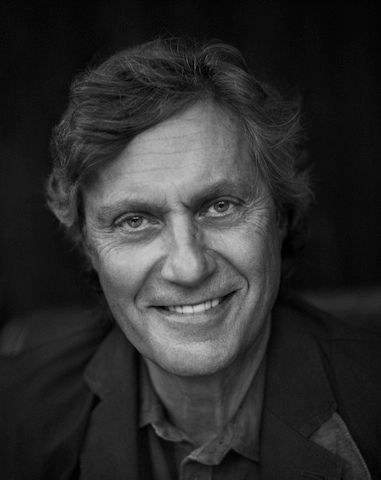 The son of an amateur filmmaker, Lasse Hallström was the first to focus his lens on one of Sweden's most famous exports in ABBA – The Movie, followed by a number of romantic comedies. Hallström gained an international audience with his 1985 film My Life as a Dog (Mitt liv som hund), netting a number of international honors including the Best Foreign Film Golden Globe and Oscar nominations in 1988 for Best Director and Best Adapted Screenplay.
Hallström segued to a successful career in Hollywood in the 1990s without abandoning his European sensibilities, and made his Stateside debut with Once Around (1991), a romantic comedy starring Holly Hunter and Richard Dreyfuss, followed by What's Eating Gilbert Grape, a powerful coming-of-age story centered around the travails of the title character (played by Johnny Depp), a young man longing for change from his humdrum life in a small town. It featured astounding performances all around, particularly from Depp and a then-unknown Leonardo DiCaprio, who earned Oscar and Golden Globe nominations for his portrayal of Gilbert's mentally disabled younger brother. Then followed Something to Talk About (1995), another highly praised romantic comedy, which starred Julia Roberts and Dennis Quaid.
Four years later Hallström returned with an adaptation of John Irving's The Cider House Rules, which garnered two Academy Awards.  It starred Tobey Maguire, Charlize Theron, and Michael Caine, the latter playing his first ever American-accented role, which earned him an Oscar for Best Actor in a Supporting Role. The following year Hallström scored yet another  hit with the charming romantic fantasy, Chocolat, the tale of a small-town candy maker (Juliet Binoche) who shakes up a community's rigid morality in rural France. The film went on to earn four Golden Globe Nominations and five Oscar nominations, cementing Hallström's reputation as one of Hollywood's best directors. His most recent successes have been his Nicholas Sparks adaptation and biggest box office hit of his career, Dear John (2010) with rising star Channing Tatum, and the delightful comedy Salmon Fishing in the Yemen (2011) with Ewan McGregor and Emily Blunt.  Hallström's next Nicholas Sparks novel adaptation, Safe Haven, will be released in early 2013 by Relativity Media.
MORE ABOUT FERNANDO TRUEBA
With a career spanning more than three decades in film, television,  theater and music, Fernando Trueba's first foray into filmmaking was making short films in the 1970s.  His feature film debut was Ópera Prima (1980), a comedy about a romance between cousins following the style of "comedia madrileña". Several years later, Trueba'sYear of Enlightenment (1986) won Spain's prestigious Goya Award as well as the Silver Bear at the Berlin Film Festival. It was followed three years later by The Mad Monkey (1989), starring Jeff Goldblum, which won six Goya Awards, including Best Film.  Trueba's grandest success came with Belle Epoque (1992), starting ingénue Penelope Cruz, which won both the American Academy Award and BAFTA for Best Foreign Language Film, as well as 9 Goyas, including another Best Film win.
Trueba then worked with Hollywood with the Miami-filmed romantic comedy Two Much (1996), scripted by his brother David Trueba, and starring Antonio Banderas, Melanie Griffith and Daryl Hannah, but then returned to his native Spain to direct films such as The Girl of Your Dreams (1998), also starring Cruz, which premiered at the Berlin Film Festival and won seven Goya awards.
Trueba's Latin jazz documentary Calle 54 (2000) marked the birth of a new phase of his career, focused largely on music, and he was rewarded by MIFF audiences with the Audience Favorite Award in 2001 for the film. In the 2003 concert film Blanco y Negro, he brought together Cuban-born musician Bebo Valdés and Spanish flamenco star Diego "El Cigala", winning the Latin Grammy Award for Best Long Form Music Video. As a music producer, Trueba has won two Grammy Awards and four Latin Grammy Awards.
Trueba returned to traditional feature filmmaking with The Dancer and the Thief, starring Ricardo Darin, which was Spain's submission to the Academy Awards that year, and received an impressive 10 Goya nominations.  Trueba's first foray into animated film followed, resulting in the Academy Award-nominated and Goya-winning Chico & Rita, co-directed with famed artists Javier Mariscal and Tono Errando.  The sensual collision of color, passion and music from what has been described as the greatest period of creativity in Cuban-American jazz, marked Trueba's first return to MIFF after a 10 year hiatus.
The 30th edition of Miami International Film Festival runs March 1-10, 2013. For tickets and more information, please visit miff2020.wpengine.com or call 305-405-MIFF (6433).
Miami International Film Festival (MIFF), celebrating its 30th anniversary March 1 – 10, 2013, is considered the preeminent film festival for showcasing Ibero-American cinema in the U.S., and a major launch pad for all international and documentary cinema. The annual Festival, produced and presented by Miami Dade College, attracts more than 70,000 audience members and more than 400 filmmakers, producers, talent and industry professionals. It is the only major festival housed within a college or university. In the last five years, the Festival has screened films from more than 60 countries, including 300 World, International, North American, U.S. and East Coast Premieres. MIFF's special focus on Ibero-American cinema has made the Festival a natural gateway for the discovery of new talent from this diverse territory.  The Festival also offers unparalleled educational opportunities to film students and the community at large. Major sponsors of the 2013 Festival include Knight Foundation, Miami-Dade County and Lexus. For more, visit miff2020.wpengine.com or call 305-237-MIFF (3456).
Miami Dade College has a long and rich history of involvement in the cultural arts, providing South Florida with a vast array of artistic and literary offerings including The Miami Book Fair International, the Florida Center for the Literary Arts, the Cultura del Lobo performance series, The MDC Tower Theater Cinema Series, nine visual arts galleries including The Freedom Tower at Miami Dade College and the School of Entertainment and Design Technology, in addition to the renowned Miami International Film Festival. MDC is the largest institution of higher education in the country and is nationally recognized for many of its academic and cultural programs. With an enrollment of more than 174,000 students, MDC is the nation's top producer of degrees. The college's eight campuses and outreach centers offer nearly 300 distinct degree programs including several baccalaureate degrees. For more, visit www.mdc.edu.
MIFF Contacts:
Tatyana Chiocchetti 786-390-4874  tatyana@miamifilmfestival.com
Janice Roland, Falco Ink  212-445-7100  janiceroland@falcoink.com
Shannon Treusch, Falco Ink 212-445-7100  shannontreusch@falcoink.com
MDC Contacts:
Juan Mendieta, 305-237-7611 jmendiet@mdc.edu
Tere Estorino  305-237-3949  testorin@mdc.edu
Sue Arrowsmith 305-237-3710  sue.arrowsmith@mdc.edu
Alejandro Rios  305-237-7482  arios1@mdc.edu.
###