For Immediate Release:
April 2, 2013Miami International Film Festival, Hispanicize, Pantelion Films

proudly present the Miami premiere of…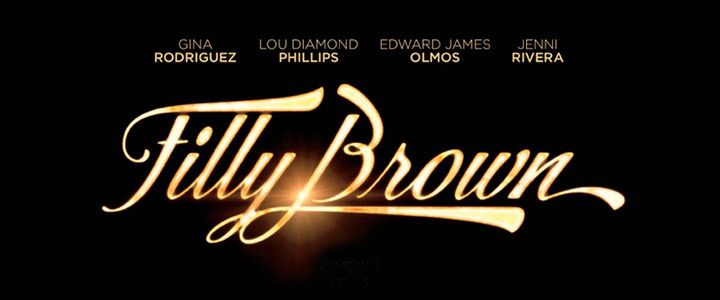 In Theaters April 19, 2013
WHAT:  
The Miami premiere of the inspiring film "FILLY BROWN" starring breakout star Gina Rodriguez, Academy Award nominee Edward James Olmos, Golden Globe nominee Lou Diamond Phillips and legendary music sensation, Jenni Rivera, in her final performance.
WHEN:
Tuesday, April 9, 2013      
Press Check-in: 6:30 PM
Red Carpet:  7:00 PM
Program Starts:  7:50 PM
WHERE:     
Regal South Beach Stadium 18       ‪
1120 Lincoln Road
Miami Beach, FL 33139‬‬‬
WHO:  
Cast members and filmmakers attending include: Edward James Olmos, Gina Rodriguez, Lou Diamond Phillips, Michael Olmos, and Youssef Delara. Celebrity guests will include: Teresa Rodriguez (Aqui y Ahora), Carlos Calderon (El Gordo y La Flaca), Maripily Rivera (Mira Quien Baila), and more!
ABOUT THE MOVIE:
FILLY BROWN is the inspiring portrait of a young woman striving to find her voice – without    compromising herself or the fate of her family. Majo Tonorio, aka, "Filly Brown," played by GINA  RODRIGUEZ, is a young aspiring hip-hop artist from Los Angeles. With her mother, JENNI RIVERA, in prison and her father, LOU DIAMOND PHILLIPS, struggling to provide for his daughters, Filly knows that a record contract just may be the answer to her family's financial problems. So when a record producer offers her a shot at stardom, she has to choose between selling out her dreams – or saving her family. Directed by Youssef Delara and Michael Olmos, FILLY BROWN is propelled by an exceptional cast featuring Lou Diamond Phillips, Edward James Olmos and the legendary Jenni Rivera in her final on-screen performance. Fueled by a fierce hip-hop score, FILLY BROWN heralds the arrival of Gina Rodriguez in the electrifying title role. "Filly Brown" is rated R by the MPAA.
For more information about "Filly Brown," visit http://fillybrown.com like us on Facebook: http://fillybrown.com or follow us on Twitter: http://twitter.com/fillybrown
ABOUT HISPANICIZE:     
Hispanicize 2013 brings brands, media, marketers, celebrities, filmmakers, innovators and bloggers together in a unique creative environment focused on ideas and best practices.  The event is a launch pad for creative endeavors, new products, technologies, marketing campaigns, films, books and more targeting Latinos.
ABOUT MIFF:  
Miami International Film Festival (MIFF), celebrating its 31st edition March 7 – 16, 2014, is considered the preeminent film festival for showcasing Ibero-American cinema in the U.S., and a major launch pad for all international and documentary cinema. The annual Festival, produced and presented by Miami Dade College, attracts more than 70,000 audience members and more than 400 filmmakers, producers, talent and industry professionals. It is the only major festival housed within a college or university. In the last five years, the Festival has screened films from more than 60 countries, including 300 World, International, North American, U.S. and East Coast Premieres. MIFF's special focus on Ibero-American cinema has made the Festival a natural gateway for the discovery of new talent from this diverse territory.  The Festival also offers unparalleled educational opportunities to film students and the community at large. Major sponsors of the 2014 Festival include the John S. & James L. Knight Foundation and Miami-Dade County. For more, visit miff2020.wpengine.com or call 305-237-MIFF (3456).
ALL PRESS MUST BE ACCREDITED TO COVER THE EVENT  
RSVP:  
Venessa Fraguio, 818-260-6955 / 310-892-7616 venessaf@thaweb.com 
# # #