For Immediate Release
Tuesday, January 12, 2016
Google Initiative on Gender and Race
Leads New Highlights at Miami Dade College's
 33rd Miami International Film Festival
Festival Also Unveils Dynamic Slate of Women Filmmakers
Confirmed for Annual Festival, March 4 – 13, 2016
Miami, FL – A unique partnership with Google on a new seminar series addressing gender and racial gaps in the film industry, particularly in technical cinematographic roles, is among new highlights unveiled today by Miami Dade College's Miami International Film Festival, as Festival organizers count down to the 33rd edition of the acclaimed annual event March 4 – 13, 2016.  The Festival is the only major film festival produced and presented worldwide by a college or university.
"Google has changed the world of technology and information in swift and radical ways," noted the Festival¹s executive director & director of programming Jaie Laplante. "Who better to lead a new charge at changing long-standing gender and racial inequalities in opportunities in the world of film and technology? We are incredibly honored that Google has chosen Miami International Film Festival as a forum to discuss solutions and inspire new filmmakers wanting to scale the heights of their chosen profession."
The Google Seminar Series on Gender & Racial Gaps In Film & Tech will take place in The Idea Center at Miami Dade College and other locations over four days, March 5 – 8, within the overall Festival program. Among the highlights of the series will be veteran cinematographer Kirsten Johnson's screening and discussion of her feature memoir,Cameraperson, set to world premiere at Sundance Film Festival later this month. Johnson's film covers her extensive career working on such filmmakers as Laura Poitras and Michael Moore.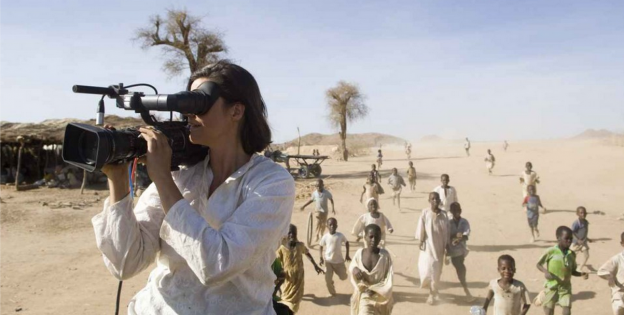 Kirsten Johnson in Cameraperson
"Our research shows that when it comes to encouraging women and underrepresented minorities to pursue careers in computer science and other technical fields, positive role models matter, which makes the work of the film industry so powerful," said Julie Ann Crommett, Google CS Education in Media Program Manager. "We're thrilled to support the Seminar Series on Gender & Racial Gaps In Film & Tech at The Idea Center at Miami Dade College to shed light on this important issue and inspire more creators to showcase positive portrayals of women and underrepresented minorities in tech."
The Festival also unveiled 21 additional new feature films for the 2016 program, highlighting some of the year's most superb accomplishments. All films in today's announcement have the special distinction of having been directed by women. The films include:
JOHN S. & JAMES L. KNIGHT COMPETITION
– Francesca Archibugi's An Italian Name (Il nome del figlio), starring Alessandro Gassman and Valeria Golino. Archibugi returns to Miami after having closed the Festival in 1989 with her film Mignon Has Left.
– Liz Garbus' Nothing Left Unsaid: Gloria Vanderbilt & Anderson Cooper (also eligible for Knight Documentary Achievement Award). The celebrated CNN journalist interviews his famous mother, now 91, about her eventful life, romances and tragedies.
– Dawn Porter's Trapped (also eligible for Knight Documentary Achievement Award), a look at legislative moves at the state level attempting to turn back hard-fought women's rights from only 40 years ago.
KNIGHT DOCUMENTARY ACHIEVEMENT AWARD
– WORLD PREMIERE of Shaina Koren's The Rebound, a Miami-made film about the Miami Heat Wheels basketball team.
– American filmmakers and Oscar nominees Heidi Ewing and Rachel Grady's Norman Lear: Just Another Version of You, a candid look at the legendary barrier-breaking TV producer of the 1970s.
– Jennifer Redfearn¹s Tocando La Luz (Touch the Light) (USA), which follows three interwoven stories of blind residents in Havana, Cuba.
– Weiner, by American filmmaker Elyse Steinberg (directed with Josh Kriegman), a look at the entertainment spectacle of American politics through the media frenzy surrounding Anthony Weiner's 2013 comeback campaign.
– Marcia Tambutti Allende's Beyond My Grandfather Allende (Allende, mi abuelo Allende), a Chilean/Mexican coproduction that won the first-ever Documentary Award presented at 2015 Cannes Film Festival.
LEXUS IBERO-AMERICAN FEATURE FILM COMPETITION
– WORLD PREMIERE of Brazilian screenwriter Vera Egito's Restless Love (Amores Urbanos), her feature film directorial debut, set in São Paulo.
– NORTH AMERICAN PREMIERE of Cuban filmmaker Jessica Rodriguez's Dark Glasses (Espejuelos oscuros), partially presented as a work-in-progress at the 2015 Festival in the Emerging Cuban Independent Film/Video Artist program presented by The Related Group.
– NORTH AMERICAN PREMIERE of Colombian filmmaker Angela Maria Osorio Rojas(directed with her partner Santiago Lozano Alvarez)'s Siembra (also competing for the Jordan Alexander Ressler Screenwriting Award), a tale of an uprooted coastal fisherman learning to build a new life in the urban center of Cali.
– Daniela Goggi's Abzurdah, a drama about a young high school student driven to anorexia over her affair with an older man, a box office smash hit in its native Argentina.
– Ana Katz¹s Mi amiga del parque, also from Argentina, a psychological drama workshopped in the Festival¹s Encuentros program in 2015, and making its international debut at Sundance Film Festival 2016.
JORDAN ALEXANDER RESSLER SCREENWRITING AWARD
– Israel filmmaker Yaelle Kayam's debut film Mountain, about the wife of an Orthodox scholar living next to Mount of Olives in Jerusalem, who discovers her own mountain of unexpressed sexual desire deep within.
CINEMA 360
– US PREMIERE of German filmmaker Theresa von Eltz's 4 Kings (4 Könige), a touching drama of four emotionally troubled youths learning to trust each other at a recovery facility.
– French filmmaker Catherine Corsini's Summertime (La belle saison), starring Cécile de France as a Parisian at the forefront of the women's liberation movement in the early 1970s.
– French filmmaker Maïwann¹s My King (Mon roi), which won a Best Actress award at the 2015 Cannes Film Festival for Emmanuelle Bercot.
– Indian filmmaker Leena Yadav's Parched, a luminous drama about three women from rural India liberating themselves from demeaning patriarchal traditions.
VISIONS
– WORLD PREMIERE of Miami filmmaker Monica Peña's experimental sophomore feature film, Hearts of Palm (also competing in Knight Competition), featuring music by lead actor Brad Lovett.
LEE BRIAN SCHRAGER'S CULINARY CINEMA
– Japanese filmmaker Naomi Kawase's Sweet Bean (An), a beautiful story of an elderly dorayaki maker passing on the wisdom of her culinary craft.
– Megan Riakos' Crushed, a murder-mystery thriller set on a vineyard in rural Australia.
These titles join the previously announced women directors from Spain in the 2016 Official Selection: Paula Ortiz¹s The Bride (La novia); Gracia Querejeta¹s Happy 140 (Felices 140); Juana Macías¹ We Are Pregnant (Embarazados); and Veronica Escuer & Cristina Jolonch's Snacks, Bites of a Revolution (Snacks: Bocados de una revolución).
More announcements will follow as the Festival prepares to unveil its complete program. In addition to the sponsors acknowledged above, the Festival also thanks Telefilm Canada, Frederick Wildman & Sons, German Films, the Consulate General of Canada in Miami and the Consulate General of Germany in Miami for program-specific support.
The Jordan Alexander Ressler Screenwriting Award recognizes and supports first-time produced screenwriters. It was created by the South Florida family of Jordan Alexander Ressler, an aspiring screenwriter and Cornell University film studies graduate who, during his brief entertainment career, held production positions with the Tony award-winning Broadway hits 700 Sundays with Billy Crystal and Jersey Boys.
The 33rd annual Miami International Film Festival will take place March 4-13, 2016.  Advance ticket packages, plus tickets for the Opening Night Film and Party, are already on sale at www.miff2020.wpengine.com or by calling 1-844-565-6433 (MIFF). For membership opportunities or more information, please emailmembership@miamifilmfestival.com or call 305-237-FILM (3456).
# # #
About Miami Dade College¹s Miami International Film Festival
Celebrating its 33rd anniversary March 4 ­ 13, 2016, Miami Dade College¹s Miami International Film Festival is considered the preeminent film festival for showcasing Ibero-American cinema in the U.S., and a major launch pad for all international and documentary cinema. The annual Festival, produced and presented by Miami Dade College, attracts more than 60,000 audience members and more than 400 filmmakers, producers, talent and industry professionals. It is the only major festival housed within a college or university. In the last five years, the Festival has screened films from more than 60 countries, including 300 World, International, North American, U.S. and East Coast Premieres. The Festival¹s special focus on Ibero-American cinema has made the Festival a natural gateway for the discovery of new talent from this diverse territory.  The Festival also offers unparalleled educational opportunities to film students and the community at large. Additionally, every October, the Festival hosts a four-day fall event titled GEMS, showcasing the season¹s finest new cinematic works. Major sponsors of the 2016 Festival include Knight Foundation, Lexus, The Related Group and Miami-Dade County. For more information, visit www.miff2020.wpengine.com or call 305-237-FILM (3456).
About Culture at Miami Dade College
The Cultural Affairs Department of Miami Dade College (MDC) is composed of the Miami Book Fair, Miami International Film Festival, Tower Theater, Koubek Center, Freedom Tower, MDC Live Arts and MDC Galleries and Museum of Art + Design. MDC is committed to providing its community with the opportunity to come in contact with innovative thinkers, creators and tradition bearers from around the world. With each presentation, MDC offers a bridge between cultures and ideas, creating new opportunities for the increasingly diverse population of Miami to come together through shared live arts experiences. For more information, visit www.mdc.edu/arts
About Google
Google's mission is to organize the world's information and make it universally accessible and useful, and our approach to computer science in media is an extension of that mission. We are committed to increasing CS opportunities for all — regardless of gender, ethnicity, geography, or socio-economic level — and aim to inspire young people everywhere not just to use technology, but to create it.For more information, visitg.co/csedu
About John S. & James L. Knight Foundation
The John S. and James L. Knight Foundation supports transformational ideas that promote quality journalism, advance media innovation, engage communities and foster the arts. The foundation believes that democracy thrives when people and communities are informed and engaged. For more, visit www.KnightFoundation.org.
About Lexus
Lexus launched in 1989 with two luxury sedans and a commitment to pursue perfection. Since that time, Lexus has expanded its line-up to meet the needs of global luxury customers. Lexus is now going beyond its reputation for high quality vehicles with the integration of innovative technology, emotional exterior and interior designs, and engaging driving dynamics and performance. With six models incorporating Lexus Hybrid Drive, Lexus is the luxury hybrid leader. Lexus also offers seven F SPORT models and two F performance models. In the United States, Lexus vehicles are sold through 236 dealers who are committed to exemplary customer service.
Miami International Film Festival Contacts:
NEW YORK / LOS ANGELES
Adam Kersh, Brigade | +1 917-551-5853 | adam@brigademarketing.com
Nathaniel Baruch, Brigade  | +1 917-551-5853 | nathaniel@brigademarketing.com
MIAMI
Jessica Wade Pfeffer, Jessica Wade Inc. | +1 305-804-8424 | jessica@jessicawadeinc.com
Margie Sernik, Jessica Wade Inc. | +1 305-456-0483 | margie@jessicawadeinc.com
Miami Dade College Contacts:
Juan C. Mendieta | +1 305-237-7611 | jmendiet@mdc.edu
Hessy Fernandez | Director, Media Relations | +1 305-237-3949 | hfernan5@mdc.edu
Sue Arrowsmith | +1 305-237-3710 | sue.arrowsmith@mdc.edu
Allison Horton | 1+ 305-237-3359 | ahorton@mdc.edu