Para su publicación
Martes 25 de noviembre, 2014
¿UN SUSPENSO WELLESIANO?

El Festival Internacional de Cine de Miami, un programa de MDCulture del Miami Dade College, presenta cartel oficial con imagen de Orson Welles, maestro del suspenso, paseando por Miami Beach
Director y guionista de El ciudadano Kane, la película más aclamada de la historia, sorprendido por un fotógrafo desconocido en 1943
MiamiFF invita al mundo a identificar al fotógrafo anónimo para resolver esta apasionante novela de misterio
Miami, FL
 — El 
Festival Internacional de Cine de Miami
 (MiamiFF), un programa de 
MDCulture
 del 
Miami Dade College
, se complació en presentar en el día de hoy el cartel oficial de su 32da edición, con una fotografía del legendario escritor, productor y director 
Orson Welles
 paseando por las aceras frente a la playa en Miami Beach en 1943. Y para incorporar otra nota de misterio wellesiano, el fotógrafo de esta notable imagen septuagenaria es desconocido. ¿Estaremos ante otra novela policiaca? El Festival invita al publico a resolver este misterio en camino a sus estrenos internacionales y actividades que se llevarán a cabo del 6 al 15 de marzo del 2015.
La imagen de Welles caminando por Miami Beach es un factor emotivo multidimensional de descriptores potenciales para los miamenses: orgullo, nostalgia, iconografía, leyendas, celebridades, clásicos, antigüedades y la hermosura de nuestras playas. La dinámica selección de filmes del Festival (notable es un adjetivo repetido demasiadas veces) y de distinguidos cineastas presentados en los últimos 32 años demuestra que Miami ha sido siempre una meca de los más grandes artistas de nuestro tiempo, y fuente de inspiración, colaboración y relajación, siguiendo las huellas de los gigantes que estuvieron en otros tiempos.
"Cuando encontramos esta fotografía de Orson, fue como si nos cayeran múltiples rayos de 'síes': sí, admiremos esta maestría; sí, el encanto de Miami siempre ha atraído a los famosos; y sí, sería un honor que el Festival asociara esta antigua imagen con la pasión de Miami por las artes y los filmes de calidad", expresó Jaie Laplante, director ejecutivo de MiamiFF.
En los últimos tiempos ha resurgido un renovado interés por la carrera y la prolífica obra de Welles– una aclamada trayectoria en el teatro, la televisión y la radio, y un conjunto insuperable de largometrajes como Citizen Kane, The Magnificent Ambersons, Othello, Touch of Evil, The Trial y Chimes of Midnight. En la primavera del 2015, del documentalista Chuck Workman estrenará Magician: The Astonishing Life and Work of Orson Welles, con prístinos fragmentos de filmes y videos tras la cámara de toda la carrera del artista.
Y en mayo 2015, la última película inconclusa de Welles, The Other Side of the Wind, será estrenada finalmente, luego de cuatro décadas de dramas internos. Una película considerada por los cinéfilos como la cinta más famosa que se habrá estrenado jamás. The Other Side of the Wind una "película dentro de una película", relata el intento de retorno de un director independiente y envejecido, interpretado por John Huston, con un elenco que incluye a Susan Strasberg, Lilli Palmer y Dennis Hopper, además de Peter Bogdanovich, desempeñándose como un director de nueva promoción. Aunque Welles trabajó obsesivamente en la película durante los últimos quince años de su vida, armando con éxito 45 minutos del filme editado, el productor original Frank Marshall y Peter Bogdanovich terminarán finalmente de editarla, guiados por las notas de Welles, y utilizando más de 1,000 latas de material fílmico dirigido impecablemente por Welles, que quedaron en París después de su muerte en 1985. La posibilidad de que Marshall y Bogdanovich pudieran hacerlo se ganó el permiso de los herederos de elles, cuando ambos lograron convencerlos de que el estreno del filme sería una celebración apropiada del centenario del nacimiento del inimitable artista.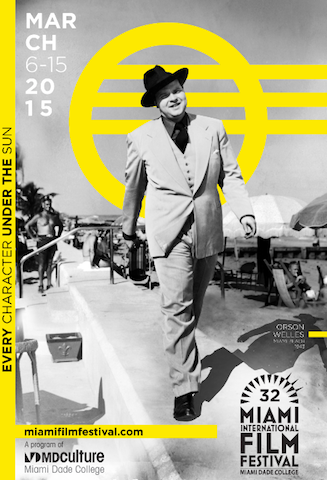 Para oportunidades de membresía o más información sobre el MiamiFF, visite el sitio Web 
www.miff2020.wpengine.com
 o llame al número telefónico 305-237-FILM(3456). El Festival es el único evento en su clase que radica dentro de un centro universitario.
# # #
Acerca del Miami International Film Festival
MiamiFF, que celebrará su 32da edición del 6 al 15 de marzo del 2015, está considerado como el mejor festival de cine iberoamericano en los Estados Unidos, y una importante plataforma del cine internacional y documental. El Festival, producido y presentado por el Miami Dade College, atrae anualmente a más de 60,000 espectadores, y a más de 400 cineastas, productores, actores, actrices y profesionales de la industria fílmica. Es el único festival prominente radicado en un college o universidad. En los últimos cinco años, el Festival ha proyectado películas procedentes de más de 60 países, entre las cuales figuran 300 estrenos mundiales, en Norteamérica, los Estados Unidos, y la Costa Este. Gracias a su enfoque especial en el cine iberoamericano, el Miami International Film Festival se ha convertido en la puerta natural de acceso para el descubrimiento del talento iberoamericano. Además, el Festival les ofrece oportunidades educacionales insuperables a los cineastas y a la comunidad en general. Entre los patrocinadores del Festival 2015 están la Fundación Knight, Lexus y el Condado Miami-Dade. Para obtener más información, visite el sitio Web 
miff2020.wpengine.com
 o llame al número telefónico 305-237-MIFF (3456).
Acerca de MDCulture
MDCulture es el Departamento de Asuntos Culturales del Miami Dade College. Está compuesto por la Feria Internacional del Libro de Miami, el Festival Internacional de Cine de Miami, el Teatro Tower, el Centro de Literatura y Teatro, el Koubek Center, la Torre de la Libertad, MDC Live Arts y las Galerías y Museo de Arte + Diseño del MDC. Su misión es proporcionarles a todos la oportunidad de estar en contacto con  novedosos pensadores, creadores y portadores de tradiciones de todo el mundo. Con cada presentación,  MDCulture tiende un puente entre culturas e ideas, creando nuevas oportunidades para la unidad de la población cada vez más diversa de Miami, por medio de experiencias compartidas de artes en vivo. Para más información, visite el sitio Web mdculture.org.
Contactos del MDC:
Tere Estorino, +1 305-237-3949, testorin@mdc.edu
Sue Arrowsmith, +1 305-237-3710, sue.arrowsmith@mdc.edu
Alejandro Rios, +1 305-237-7482, arios1@mdc.edu